"He's obviously a fair way off what we would say is the intensity to be ready to play so we'll just keep progressing him up and that will take care of itself.
"The next step for him will be getting to the point where he can join in training with the group and then there's usually a couple of weeks required where he is in full training with the group before we would say someone's back ready to play."
Daniher's last two season's have been significantly interrupted by groin injuries, having played 11 games across 2018 and 2019. His last game came against Fremantle in round nine 2019.
He requested a trade to Sydney at the end of 2019 but the Swans and Essendon could not come to an agreement, so he remained at the Bombers.
When asked if Daniher would play in 2020, Worsfold said: "I can't answer that question. All I can say is that is our aim, to help him get back ready to play.
"I don't think we have had any idea of how it would progress so this issue is different to pretty much any other issue that our medical staff have seen so they are treating it as a unique situation.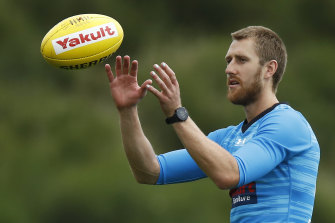 "If we step him up to a certain level, and that level he is not coping with, we have to come back to the previous level and strengthen him more in that area and then we go again.
"It is not linear … [we're] working really diligently around getting Joe's body right where he can play AFL footy."
Loading
On a new contract for Daniher, Worsfold said: "We're not in those discussions at this stage. When we feel like the time is right we can re-commence those discussions, but we've got a really strong focus on seeing Joe play footy as soon as we can."
Worsfold said having captain Dyson Heppell and Conor McKenna available for round two was not certain.
McKenna is in two-week quarantine having just returned from Ireland, while Heppell had an infection in his foot after he had screws removed in February.
"Really it's going to depend on how much he [Heppell] can do in the next three weeks and what we as a coaching group is best preparing him," Worsfold said.
"It's going to be tough for him [McKenna] to say he is ready for round two."
In better news Patrick Ambrose and Cale Hooker returned to full training this week.
Anthony is a sports and general news reporter at The Age.