"I think the thinking behind it certainly has merit: they want to increase the ball in play [and] bring back that free-flowing rugby league."
A number of NRL coaches and senior rugby league figures have been critical of the rule changes in recent days, with many voicing their frustration that they have been made with two rounds having already been played this season.
Morris admitted the change will be hard to manage less than two weeks before the season's restart.
"It is going to be a challenge for us," he said. "We haven't had much time at all to prepare for it. But it is what it is, we're going to get on with it."
On Thursday, Ricky Stuart took aim at those aggrieved by the controversial rule changes, throwing his support behind the direction ARLC boss Peter V'landys is taking the game by listening to the fans.
"I'll support what Peter and the commission are trying to achieve because I don't like the way our game is heading," Stuart told the Herald.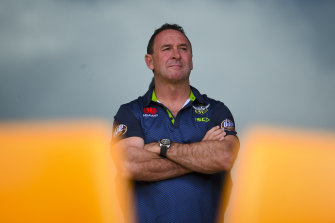 Morris said he was banking on more clarity around the rules to be announced within 24 hours, with coaches yet to be briefed on what the interpretations will be of the ruck infringements.
"There's still a lot of questions up in the air," he said. "We're kind of, still waiting to find out what the actual key indicators are going to be. The one ref doesn't really worry me too much, but the actual the rule change for the six again, that is the real big one."
Sharks star Josh Dugan returned to training on Friday after testing negative to COVID-19. Cronulla halfback Chad Townsend has also been preparing despite dislocating his thumb after it was caught up in a teammate's jersey.
Loading
Morris said the pandemic has allowed his players to adapt to quick change, giving him faith in their ability to take on the new rules.
"That's one thing I've really learned out of all this is you need to be able to adapt pretty quickly and you've got to have sort of contingency plans in place and the boys are used to that," he said. "I think we've sort of broken the shackles a little bit as far as adapting to change."
Sarah is a journalist for The Sydney Morning Herald.