"The competition structure hasn't been confirmed but I would suspect that would be the case."
Donaghy said the Storm experienced a similar scenario in 2006 when they played the first six rounds away due to the Melbourne Commonwealth Games.
The Storm won the minor premiership that year although it was later stripped as part of salary cap penalties.
Donaghy said he understood that the remainder of the 2020 draw would be equalised with more home games later in the season – and he believed Melbourne could possibly play in front of crowds.
"That would be my understanding, if we were playing more away games at the start there would be the opportunity to back-end some home games," he said.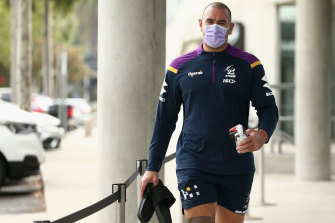 Loading
"I am the eternal optimist and I think if we keep doing the right things as a community … I'm genuinely hopeful that in some way, shape or form we will start seeing crowds back at AAMI Park as long as the trends keep going the way they are."
AAP