The proposal nullifies the potential competition, but also gives Nine access to the NRL's 1.6 million account holders and the largest social media footprint (5 million people) of any sport in the country.
The proposal also fits in with Nine chief executive Hugh Marks's aim of redirecting funds away from head office back to the clubs.
In a statement earlier this month, Nine criticised the NRL for its "bloated head office" and "years of mismanagement" and now the company has asked ARLC chairman Peter V'landys to provide a breakdown of how he intends to significantly reduce costs at Rugby League Central. That breakdown has not yet been outlined.
The NRL's 70-person strong digital department is one area Nine has targeted. It believes it can operate the websites and apps of the 16 clubs, the two states and the governing body under a more cost-efficient model, while also providing content through its Wide World of Sports production empire.
Nine, through rights and production costs, invests about $140m a year in rugby league, which is the equivalent of what it spends on all its news, current affair and breakfast shows across five major cities. It is now wondering if that money could be better spent elsewhere to ensure its own long-term viability.
Marks has put the argument to V'landys that if the broadcast deal is not significantly reduced, the network will not be in a position to bid for future rugby league rights.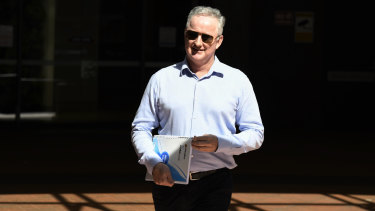 As it stands, the NRL is facing losing at least $80m of the $330m in anticipated broadcast revenue from Foxtel and Nine in 2020.
Both broadcasters, using the current state of affairs around the coronavirus pandemic as leverage, want to renegotiate the deal.
Loading
Nine, which had pledged $575m to the NRL for a five-year broadcast deal that expires in 2022, will also spend about $125m in production costs over the same period. It says that model is no longer sustainable and is seeking a significant reduction in the deal.
Foxtel had been pleading with the NRL for weeks to ensure it gets as many of the 24 rounds to provide its dwindling pay television subscribers, but on Thursday the pay TV network had a change of heart in regards to how much it was willing to pay.
Foxtel now agrees with Nine that the product is severely diminished without a crowd and is of lesser value in a weak advertising market.
Michael Chammas is a sports reporter with The Sydney Morning Herald