"I'd be open to having cameras in the sheds or whatever they think of. As coaches we'd all prefer to say no, but we're in different circumstances now. Everyone has to make sacrifices to make the game better and keep fans entertained and engaged."
It's something the NBA do well at time outs and end of quarters, providing insight into the inner sanctum through mic'd-up team talks.
One option discussed is to select certain periods in matches and breaks that coaches would know may be replayed in the telecast. Live access might be fraught with danger given some of the language used in the heat of battle.
"In the situation that we're under, it's a responsibility of the coaches to play their part to bring this into the lounge groom," Stuart said.
"If that is us being recorded for certain parts of the game or certain parts of half-time, we should be committed to doing it. If it's going to help the broadcasters with no crowds at the game and is of interest to our fans watching at home, I'd be more than happy to participate."
Stadium to be fast-tracked
Don't be surprised if the ANZ Stadium redevelopment gets fast-tracked in coming weeks. The government has indicated it will push ahead with the most shovel-ready projects, none-more-so than ANZ Stadium.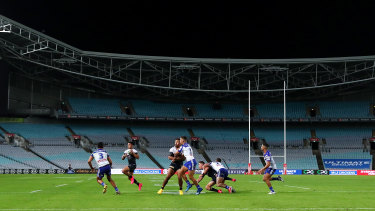 The Olympic stadium was due to host its final game on June 27 when host tenants Canterbury and South Sydney squared off just six days after NSW hosted Queensland in game two of the State of Origin series. That schedule is now out the window.
With crowds set to be locked out for as long as the rest of the year, momentum is gathering to begin the refurbishment as soon as possible and be up and running for the start of the 2023 season.
Eight expectations
There are whispers that have filtered back to the organisers of the Twenty20 Cricket World Cup that consideration is being given to making it just an eight-team tournament, if it is not postponed until February.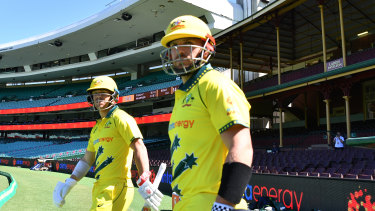 That would shorten the competition and make it logistically easier to get teams into the country given the coronavirus pandemic.
Loading
The flow-on effect from that could see the NRL grand final, even towards the end of October, played at the Sydney Cricket Ground if the T20 World Cup fixtures and duration are significantly reduced so it can be played predominantly in November.
Michael Chammas is a sports reporter with The Sydney Morning Herald