"The game has changed every year and players today know what they need to do. They know they will be the only ones impacted if they're under-done when they come back. And injuries often come on the back of being de-conditioned.
"I've explained to the guys when we do come back, we need to focus on our football, not getting fit. They need to get themselves fit."
Arthur will speak with his high-performance staff Trent Elkin and Brendan Inkster at 8pm each night to discuss "what's going and what might not be going on". Most clubs require players to constantly report on their training compliance, and many download GPS data as well.
And with ARL Commission chair Peter V'landys declaring the May 28 comeback date, which could be delayed a week to June 4, Arthur and his fellow head coaches know it will be so much easier for their players to remain motivated.
It was only a few weeks ago the players and coaches were contemplating not lacing up their boots again this year.
Arthur said three weeks would be an ideal amount of time for the players to return to field sessions as a group, and it "would have been a different story had we been more than three months away from playing".
The scrapping of the Canterbury Cup also means training sessions will be extra intense, Arthur said, with fringe first-graders aware they can no longer press their NRL claims on-field in the feeder competition.
Wests Tigers coach Michael Maguire has also given his players constant feedback on their training and tries to keep spirits high with in-house contests, like push-up competitions.
Like Arthur, Maguire said two to three weeks would be an ideal amount of time for the group to come out of isolation and train together.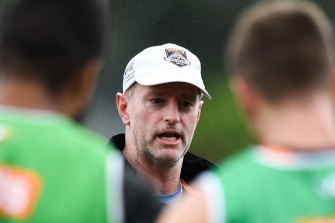 "Intensity and ball work will take some time to come back, but two or three weeks would be nice," Maguire said.
"Now a date has been set for the return, people can focus on what's ahead. Everyone has different forms of motivation, but to have a date will make it easier for the players."
Harry Grant arrived from Melbourne as part of the swap deal with the Tigers' Paul Momirovski. He managed to join in only one field session before the competition was suspended. He continued north to his central Queensland seaside home town of Yeppoon where he's continued to liaise with Maguire and train.
Loading
Canberra coach Ricky Stuart said a timeframe for returning to training was yet to be determined but he was confident his players would come back in good shape.
"It's a hard one to answer, but it will all depend on the discipline and attitude the players show through their isolation," Stuart said.
After giving his players time and space to work through what it would mean for them to pocket just two months more of wages and no football, Stuart said he had "cranked up the communication" the past fortnight and "I'm very happy with how they've handled this adversity".
Christian covers rugby league for The Sydney Morning Herald.