The preliminary finals are schedule for next weekend as long as the coronavirus outbreak doesn't force them off the field.
The Roos controlled much of the opening term, turning a misplaced kick in from Collingwood into a goal via Daisy Bateman, but the Magpies kept battling with their more skilful opposition and it prevented more scoring chances.
The Magpies also took their lone chance when Jordan Membrey tackled a Roos player deep in her forward line forcing an incorrect disposal free kick, which Membrey converted to see the Roos leading 7-6 at quarter time.
North looked poised to break clear when Emma Kearney and Kaitlyn Ashmore teamed up for an early goal in the second term; Ashmore's tackling and kicking set-up two more chances but the Roos didn't convert them and paid the price.
Collingwood midfielder Mikala Cann kicked a shock goal against the run of play to bring her club within a kick before a moment of magic from Chloe Molloy saw the Magpies star step pick-up a contested ball at centre-half forward and run between two Roos before kicking the goal.
Sarah D'Arcy's snap topped off an impressive quarter as Collingwood led 25-15 at half-time.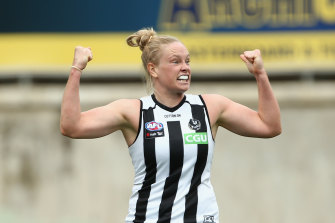 The Magpies weren't always the best team but their best players like Bonicci and Chiocci were constantly on the ball taking 20 of their side's 80 kicks in the first half.
The pressure lifted another cog in the third term and it meant few scoring shots until an untimely error saw Collingwood concede a 50-metre penalty and give North Melbourne a shot 20 metres from goal with Sarah Wright converting to cut the lead.
Loading
Then just before the siren Gavalas pulled in a mark 35 metres from goal and her kick sailed just over the pack for a goal as the siren went to put the Roos up 28-25 going into the last term.
Sophie Abbatangelo's goal extended the lead but a fearless Membrey pulled in a mark and kicked truly soon after to keep her side within a goal.
From there it was a torrid finish, the Magpies had some distant shots, which fell short of the goals but they couldn't find a clear shot and score the win.
Roy Ward is a Sports writer for The Age.