It described the actions the government was taking during the bushfires including bringing in the defence force and calling out reservists.
Mr Campbell told Senate estimates on Wednesday he was "discomforted" by the video but "did not see ill-intent in the actions".
"Whenever the Australian Defence Force, or any other apolitical body, finds itself between political parties, I am discomforted," Mr Campbell said.
"And I don't suggest there was intentionality in that circumstance, but the Australian Defence Force in particular needs to be … nonpartisan in both reality and perception," Mr Campbell said.
"I have offered my advice to government."
Coalition MPs were also privately uncomfortable with the video at the time over concerns it was politicising the bushfire crisis.
Under Defence policy, any material from its website cannot be used in advertising or other communications without the explicit authorisation from the department.
Department of Defence secretary Greg Moriarty said the government did not ask Defence for permission to use the material and no one in the department provided authorisation.
Mr Moriarty said the matter was discussed between officers of the department and Defence Minister Linda Reynolds after the video was posted, "but we haven't taken that any further".
He said he had not expressed concerns "formally" to the government in the form of a "submission or deliberate discussion".
"The minister made clear to me that the decision to proceed was done in accordance with what the government wished to achieve at the time in terms of informing the public about what the Australian Defence was doing," Mr Moriarty said.
"I strongly view that departmental policy should be adhered to … approval was not sought, nor was it given."
Senator Reynolds said the video was "not an advertisement".
She said it was a "routine social media" post put out by the Prime Minister's office providing information to Australians and calling out reservists.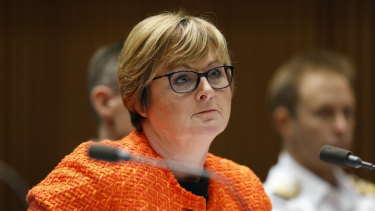 "[Approval] was not sought as it wasn't required," she said.
The end of the video contained an authorisation from "S. Morrison, Liberal Party, Canberra".
At the time, the Liberal Party's Twitter account retweeted Mr Morrison's tweet and put out a separate tweet which linked to a webpage containing a "donate" button. The button was then removed from the page of the Liberal Party website.
Loading
Mr Morrison on Wednesday declined to say whether Mr Campbell had expressed his concerns with him directly.
"I talk to the Chief of the Defence Force very regularly, Mr Speaker, and when I have private discussions with the Chief of the Defence Force, I respect those private discussions," the Prime Minister said in question time.
Following question time, the Morrison government pointed out the Labor Party used a photo of ADF members in 2014 in a Facebook post criticising the Abbott government over its pay offer to Defence Force personnel.
Anthony is foreign affairs and national security correspondent for The Sydney Morning Herald and The Age.