These days, the former executive director of Catholic Social Services no longer describes himself as "religious" and does not pray.
"The older I get, the less I know – and the less I'm prepared to be committed to one particular pathway," he says over lunch at Temporada in Canberra's Civic.
"I experience what I would describe as a sense of wonder, awe and mystery about the universe …
But I no longer explain the mystery of that existence in the way that religious people that I know and love would explain it."
While finding a place to dine in the nation's capital on a Monday initially proved challenging, Quinlan suggested the venue – a favourite haunt – and, fortuitously, it was open.
Both the space and the food are simple in design: black chairs and tables, a central bar, a menu driven by fresh ingredients.
We've settled on the three-course lunch option, he ordering the steak tartare, buttermilk chicken, a glass of riesling and rosemary pannacotta while I chose the kingfish entree, steak for main and the same pannacotta for dessert.
"I usually order pannacotta if it's on the menu," Quinlan says, before launching into a description of a tofu-based variant of the Italian dessert offered at a suburban Japanese place near his family home.
Quinlan is passionate about food and life, and his world view is shaped by years spent running not-for-profits in the community sector.
As chief executive of Mental Health Australia, he was a vocal supporter of same-sex marriage.
Now, Quinlan fears the federal government's plans to pass religious freedom laws – initially seen as a consolation prize for the Christian right, but which failed to attract consensus support among faith groups – will exacerbate social divisions that arose during the equality debate.
He celebrates the fact that his powerlifting gym has introduced a "gender diverse" category, called "Mx", to ensure the sport he and his wife have embraced is accessible to all.
For the record, Quinlan – introduced to powerlifting by the eldest of his three daughters – bench-presses 80kg and dead-lifts 160kg.
"Ideally, I'd like to get to my body weight for bench press and twice my body weight for dead lift," he says, always looking ahead to the next goal.
Ideally, I'd like to get to my body weight for bench press and twice my body weight for dead lift.
Public debate over religion and sexuality makes him worry about Australia's capacity to nurture and cater for its pluralistic society.
"My fear is there are growing divisions and intolerances that are really, really unhealthy," he says. "We're at risk of forcing everybody back into their particular camps."
The way he sees it, the desire of religious people to express their beliefs must be weighed against "the rights of teenagers and others who might be experiencing diverse sexualities to live their lives according to the truth that their genes probably create for them".
"If we weigh that against somebody's right to preach a very particular, narrow version of a Christian tradition – I just don't think there's any contest," he says.
Asked if the decline of religion could be implicated in Australia's mental health woes – with four million of us suffering from a mental illness each year – Quinlan answers simply: "No."
He describes having observed over his years in the church how spirituality and religious practice could be "tremendously beneficial" for some, while "damaging" others by leaving them "trapped in less of a full life than they might otherwise lead".
"The things that nourish and enrich us are different, and I think we should celebrate that," he says.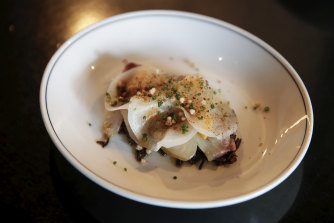 Our mains arrive, and we tuck in with enthusiasm. "This is really nice, actually – I don't know how they manage to make the chicken as crispy and crunchy as it is, and as tender in the centre," Quinlan says.
Turning back to the state of the nation's mental health, despite the sobering reality of more than 3000 suicide deaths per year, Quinlan looks for the positives and observes how Australians' attitudes have shifted during his lifetime.
"When I grew up, my only real thinking about it was that, occasionally, people had what my parents would describe as nervous breakdowns," he says, recalling the stigma attached to such episodes – and the over-medicated "fog" in which such people sometimes returned.
"I look at my adult children now, they're having much more sophisticated conversations – they are literate in mental health, they have expectations about their personal lives and their work."
But while "we've come a long way", he says, "our systems haven't kept apace with that".
Quinlan says what Australia's mental health sector needs is a binding national agreement – "one that has teeth, has a budget, accountabilities, performance measurement and so forth" – to deliver services to those caught in what the sector refers to as the "missing middle".
The term, coined by psychiatrist and former Australian of the Year Patrick McGorry, refers the chasm between the sort of problems addressed through preventative services such as Headspace and the acute disorders that put people in and out of psychiatric wards and emergency rooms.
Quinlan is hopeful that the Productivity Commission inquiry into mental health will lead to change.
He wants the mental health system to better address the role of childhood trauma and disadvantage by integrating community and social support with tradition health services.
"We are seeing kids that are distressed, and that are identified as having anxiety and depression, earlier and earlier," Quinlan says. "It is an area that requires a massive amount of attention."
Prime Minister Scott Morrison has signalled that lowering Australia's suicide rate will be a key focus of his government, and last year appointed former National Mental Health Commission chief Christine Morgan as national suicide prevention adviser.
Quinlan says workplace bullying, stress and a "huge burden of work intensity" – including constant digital communication – despite no major productivity gains, are key factors to be addressed.
"Most of the people I know struggle to effectively establish work-life balance, struggle to turn off appropriately … For my parents' generation, it was pretty clear when you worked and when you were off. I just don't think we've got those practices in place."
Most of the people I know struggle to effectively establish work-life balance, struggle to turn off appropriately.
In his final newsletter update as chief executive of Mental Health Australia, Quinlan echoed former prime minister and Beyond Blue chair Julia Gillard in calling for unity in the "desperately under-resourced" sector.
"Success comes when we speak together about our shared goals, not when we clamber over each other seeking to speak first and speak loudest," he wrote.
"None of us are blind to the fact that we have so much more to do … Our mental health systems remain inadequate to deal with the distress and injury that members of the community experience in substantial numbers."
A scarcity of funding has left mental health organisations doing "too much work with too little resources", he explains.
"Anytime you speak to them, there are literally people waiting in their waiting rooms who might need life-saving interventions."
Fixing the problem requires not just money, but a rethinking of how the whole system works. "There isn't a single fix," he says.
In his new role with the Royal Flying Doctor Service, Quinlan – who has a recreational pilot license, but is regrettably unqualified to fly the RFDS planes – is determined to advocate on behalf of rural Australians who have poorer access to health services.
"People experience shorter lives and more morbidity, just because we don't service them appropriately," he says.
It's a mission he sees as particularly important "at a time when rural and remote folks are under very significant pressures – the pressures of drought and climate change".
Speaking before the bushfire season had reached catastrophic proportions, he says prophetically: "I think it is going to remain a very challenging period."
"If we accept the notion that we don't want to abandon rural and remote Australia, like physically the move away from those areas … then I think it's incumbent upon us to make sure that those people get access to the services they might need to support them."
Quinlan sees this as a fair exchange for the benefits of having people living in rural and remote areas, whether they are farmers, miners or "indigenous folks living on traditional country" – the latter making up almost a third of the people serviced by the RFDS.
A few weeks after our lunch – and just days before he joins the organisation – these words will take on a heightened significance when 19-year-old Kumanjayi Walker is shot by police in the Northern Territory community of Yuendumu.
The coroner is investigating after the young Warlpiri man died from his injuries without receiving critical emergency care, medical staff having left the remote community due to safety concerns and an RFDS team delaying its response while waiting for a safety clearance to land.
"One of the things we celebrate in Australia is universal access to health care," Quinlan says.
"If somebody on the street outside where we're sitting now collapses in some sort of medical emergency, they're going to get exactly the same access to an ambulance, hospital, intensive medical assessment and support as everybody else.
"Nobody's going to be looking to determine their income level, citizenship status, whether they're a politician or an unemployed person or what part of the world they're from."
Ensuring that regional and remote Australians have access to this same standard of care is part of "our social contract", he says.
"It should remain our very clear goal that we provide access to a universal system that's not dependent on who you are or where you're from."
Note: A few weeks after our lunch, the writer realised Temporada had billed for only one lunch and alerted the restaurant. Chef and co-owner Dave Young thanked us for picking up the error and said he was happy to shout Quinlan lunch as mental health was "such a big issue".
Temporada
15 Moore St, Canberra
(02) 6249 6683
Monday – Friday, 7.30am – late
Saturday, 5pm – late.
Loading
Dana is health and industrial relations reporter for The Sydney Morning Herald and The Age.