"I'm good mates with Llew, and you should always stick by your mates," Mr Joyce said.
I don't want another party. I think that would be very chaotic. It's tough enough with two. With three it would become very unwieldly. I wanted to keep him in the tent".
Mr Joyce and close ally Matt Canavan, who quit his cabinet post ahead of the challenge on Mr McCormack, launched a podcast on Thursday called Weatherboard and Iron in reference to the regional and rural houses of those Mr Joyce has described as "the near invisible Australians".
Senator Canavan said in the podcast he had also attempted to "talk Llew out of it" and said he wanted to see the National Party "survive".
"I think it's even more important now that we have this regional country voice down here," Senator Canavan said.
Loading
Nationals federal president Larry Anthony has played down the prospect of more MPs quitting the party amid concerns over Mr McCormack's leadership, but on Thursday conceded it was a "very messy two weeks".
He said the end of the parliamentary week could not come quick enough and Nationals MP should go back into communities and "focus back on the things that matter".
Asked about speculation over and leaking against Mr McCormack's leadership, Mr Anthony said: "It's not sustainable".
"This is not something we do in the National Party. Our base … expect better of our members," Mr Anthony told Sky News Australia.
Senior government figures have rallied around Mr McCormack this week to ensure he can survive in his position, with recommendations he broaden his circle of advisers and find "political hard heads" to improve his performance.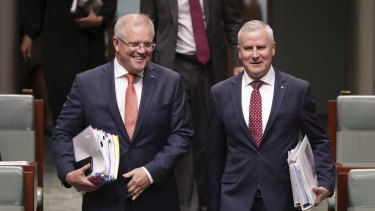 Asked on Thursday by journalists, Mr Morrison said he had no concerns about a breakaway Queensland LNP faction forming nor another challenge on Mr McCormack's leadership.
"He has the full support of his colleagues. He has my full support as the Prime Minister," Mr Morrison said.
"We've got a lot of work to do, we've got dams to build, we've got roads to build, we've got the economy to continue to build, and rural and regional Australia, which is going to bounce back."
Mr Joyce said he had "no intention whatsoever" to destabilise the government.
"Colleagues and myself had a shot, we lost and when you lose, you lose, that's it. You've gotta move on," he said.
"I need the McCormack-Morrison government to prevail and I'm going to be diligent and train myself into those lines."
Loading
NSW MP David Gillespie, who has also been a critic of Mr McCormack, said the party was "committed" to bringing Mr O'Brien back into the fold and is "for the moment" supporting Mr McCormack.
Dr Gillespie said there were "frustrations" among some members of the LNP, and said the best way to overcome these differences was to "address their concerns".
Rob Harris is the National Affairs Editor for The Sydney Morning Herald and The Age, based at Parliament House in Canberra