Scott has been charged with two counts of assaulting an officer in the execution of duty, behaving in an offensive or indecent manner, resisting an officer in the execution of duty, and remaining on trust lands after a request to leave.
His legal team argue he was Tasered while handcuffed and that police "breached their own procedures".
Scott isn't the only player still waiting to hear whether he will be allowed to lace up the boots while awaiting a court case.
The NRL is content to wait for Parramatta winger Maika Sivo's next court hearing in Fiji on February 17 – at which more details of the allegations against him should come to light – before making a decision.
While Sivo and Scott are still waiting to see if they will lace up the boots this season, Greenberg made decisive calls on the immediate playing future of Josh Reynolds and Tyrone May on Friday.
Greenberg revealed Reynolds would not be subject of the no-fault stand down policy.
"Josh Reynolds has been upfront and open about his situation," Greenberg said. "He proactively advised the integrity unit prior to the commencement of the police investigation and I would encourage other players to be as forthcoming. That said the allegation he faces is serious and we will continue to work with and receive updates about his situation from NSW Police."
May missed the entire 2019 season after being charged with filming four sex tapes without the consent of the women involved. He was convicted on four counts but has effectively already served a 25-week ban from the NRL. His court case was finalised last Friday.
He will be available for selection in round five provided he completes a secondary prevention program.
"Tyrone May has effectively served a 12-month suspension from the game, which reflects the seriousness with which the game treats these offences. Providing he participates and completes what we have asked of him, he will be allowed back in the NRL during the first quarter of the season," Greenberg said. "May's case should send a clear message to all of our players about the severity of such conduct."
May has also been fined 25 per cent of his salary this season – which is believed to be about $60,000. The Panthers did not dispute the fine.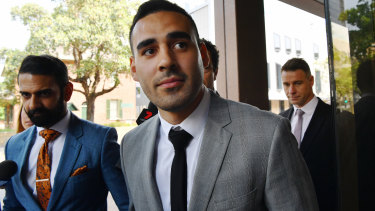 Sources have said the NRL wanted to add to May's punishment given it involved indecent treatment of women.
That takes his total ban to 28 matches, a threshold which the players' union believe to be too high.
"Whilst we recognise the serious and completely unacceptable nature of Tyrone May's conduct, we also note that he has been sanctioned to an unprecedented level," RLPA chief Ian Prendergast said. "May has now been subjected to a 28-NRL-game suspension and a fine at the highest end of what can be enforced by clubs under the NRL contract.
Loading
"In our view the use of the no-fault stand down rule has significantly compounded this sanction – which is in no way fair, nor does it provide consistency for our members.
"We have reached out to both Tyrone and his legal representatives to discuss their response to this decision."
Sam is a sports reporter for The Sydney Morning Herald.