The chances of CAS overturning the ban appear slim, but Putin has signalled he won't die wondering. He believes the call to exclude Russia from Tokyo 2020 contravenes the Olympic charter and should be challenged.
"We have all the reasons to file an appeal to CAS," Putin said at a summit in Paris. "There are other considerations as well, but it is important that this issue is analysed by specialists, lawyers who would talk with our partners having this knowledge.
"What lays on the surface and what I see right away – there are no concerns about the Russian Olympic Committee. If they are no concerns there, then the country should be able to perform under the national flag."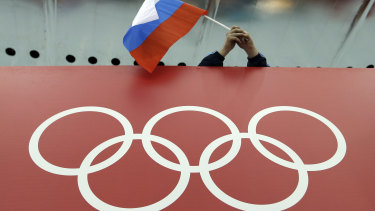 RUSADA has 21 days from the initial ruling to challenge the WADA decision, but the case will be unlikely to drag out towards the start of the Games, which begin in Japan on July 24.
Should RUSADA be prompt with the paperwork, a reasonable suggestion given the urgency of the matter, then CAS has three months to hand down a ruling once the panel has been constituted.
That would give Russian athletes currently in limbo four months to plan whether to opt to compete out of their national colours.
Among them are a group of a dozen cyclists in Brisbane preparing for a World Cup track meet at the Anna Meares Velodrome, beginning on Friday. Among them is former Australian Shane Perkins and riders like time trial world champion Daria Shmeleva.
Cycling's governing body (UCI) has "taken note" of the WADA ruling and vowed to implement it once the decision has been ratified, pending the CAS appeal. For the time being, the riders will be allowed to compete, given the event falls in the 21-day appeal period.
From there, like hundreds of other Russian athletes, they must then demonstrate they are clean if they hope to ride for Olympic gold in Tokyo.
"Russian cyclists who want to participate in the Games and the UCI world championships will need to prove their integrity on an individual basis," the UCI said. "For this, the UCI will set up a case-by-case eligibility procedure. Our federation is closely following developments linked to this decision."