The documentary shows Smith, ruled out of this match because of his concussion at Lord's, standing alongside Langer and analyst Dene Hills in the viewing area as Stokes slapped the winning runs off Pat Cummins. He could only shake his head and turn away in disbelief as England celebrated.
A shattered James Pattinson later sat in the dressing room with his head arched back, while fellow quick Josh Hazlewood, with his baggy green still on, cupped his face in his hands. Marnus Labuschagne was almost in tears, as he sipped a bottle of water.
Skipper Tim Paine urged his players to maintain their focus, something they would do in claiming victory at Old Trafford, which ensured the Ashes would be retained.
"Keep knowing that the process we have in place to beat these blokes is going to work. Yep, a missed opportunity, but we have got two others," he told his players as they gathered as one.
Reflecting on Monday on that defeat, Usman Khawaja said it had been a "devastating" moment.
"Yeah it was very tough, a tough moment. I think it was a tough moment for the whole of Australia, let alone the guys playing, so that stuff's the down of sport, the stuff you don't see," he said.
Under Langer and Paine, there has been a cultural shift in the side, with a need for boorish behaviour to be eradicated.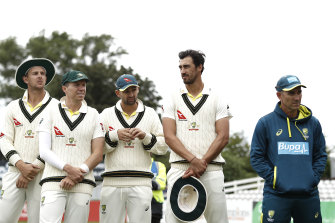 At a team meeting, Langer urged his men to remind themselves who they were representing.
"I want you to keep thinking about, not just for this Test match, but every time you play for Australia, remember who you are representing," he said.
"You are not just representing us, you are representing the whole country."
Langer also told his players to reflect on those close to them, including parents, siblings and their own children, when the pressure rose on the field.
Khawaja said a documentary of this kind was a breakthrough for cricket.
"For a long time, Australian cricket's been very closed off, especially at international, Australian level, not allowing people into the change rooms," he said.
"I think this documentary is great, to see the other side of it, a lot of the fans wouldn't have seen it ever, unless you were invited to come in. It's a pretty special place, very different to what you see on the outside."
Jon Pierik is cricket writer for The Age. He also covers AFL and has won awards for his cricket and basketball writing.