A growing middle class and free-trade deal with Beijing has led to the Asian powerhouse becoming Australian beef producers' second biggest market and is rapidly closing in on Japan.
About 70 per cent of cows sold though saleyards have been purchased by processors in 2019, predominantly destined for Asian and United States markets, with global demand driving average prices to the highest domestically for three years.
Bindaree Beef's John McDonald, among the buyers at Lismore on Tuesday, said he'd "never seen the market hotter".
"Considering what the region is going through with the drought, the fires, the demand out of Asia is a lifesaver for a lot of cattle producers right now," Mr McDonald said.
"We will send a lot of what we bought today to China or Korea and send the rest off to Queensland feed lots to fatten them up."
Australian beef exports to China reached new highs in October topping 30,000 tonnes for the month and now over one million tonnes for the year to date.
China is now 75 per cent above 2018 beef volumes on a year-to-October basis and up 41 per cent on sheep meat.
The Asian powerhouse has become a key pillar in world meat trade, with strong finished cattle prices supported by surging export demand a favourable Australian dollar.
While its ongoing trade war with the US has created uncertainty for the global economy, the nation's appetite as it searches for protein to replace its depleted pork stocks is expected to underpin the Australian export industry.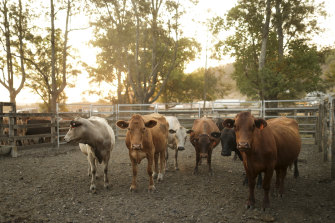 Kevin Cocciola, from Ian Weir and Son auctioneers in Lismore, said the money has picked up in the past six weeks, leading to a flood of sales.
"Cows that were making 70 or 80 cents [a kilogram] a month ago are now making a $1.60 or $1.80," Mr Cocciola said.
"I think there's a sense of 'take the money while it's going'. A lot of properties now haven't got any cattle left at all – the drought is starting to really hit hard in this part of the world."
He said Lismore would generally see between 3000 and 4000 sold at market in a year and that could jump up to 30,000.
"There's just about sales every day of the bloody week. By the time this is over there shouldn't be any old cows left on the north coast."
In 2018-19, Australia exported 72 per cent of its total beef and veal production to more than 70 countries, generating $9.5 billion.
From the beginning of 2007 to the end of 2014, the cattle prices averaged 131¢/kg live weight and from 2015 to 2018 increased to an average of 214¢/kg. Since June it has risen again to an average of 222¢/kg.
Processors in Queensland have been the major driver behind recent growth, with medium cows averaging 251¢/kg last week, 8¢ stronger than NSW and 9¢ above Victoria.
Meat and Livestock Australia said there was little evidence to suggest cattle will have any major price declines in the short term, with "robust" demand for manufacturing beef set to continue as supply tightens in the new year.
Rob Harris is the National Affairs Editor for The Sydney Morning Herald and The Age, based at Parliament House in Canberra