But for those truly entrenched in boxing, there can be little doubt as to why they lace up the gloves and step inside the squared circle.
For Opetaia, it is for the kids he spent time with in the Marist Boxing club in Samoa. It is for those that use him as inspiration when they file into Joe's Gym in Lotopa, a village on the island of Upolu with a population of 1661.
It is for the national flags of Australia and Samoa which hung in his dressing room and adorned his trunks in his battle with former world title challenger Flanagan.
Now the promising 24-year-old is another step closer to the pinnacle of the sport with D&L Events promoter Dean Lonergan edging the rising star towards a world championship opportunity.
Flanagan started to find his rhythm midway through the opening round with an array of body shots, leaving Opetaia's corner to offer a constant reminder: "Get back on the jab".
Once Opetaia settled in under the bright lights of a main event being beamed around the nation, it seemed as though the official passing of the torch could come at any moment.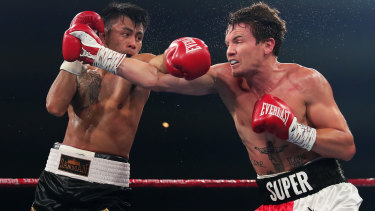 Flanagan has for so long been the gatekeeper in the Australian cruiserweight division – a weight class which now belongs to the Sydney-born young gun.
A third-round knockdown saw Opetaia establish his dominance. The only time he would find himself dropping to the canvas was in the aftermath of a shot below the belt in the fourth.
Even then he would not stay down for long, smiling at Flanagan and saying, "Come on bro, let's go".
Loading
A right hand dropped Flanagan in the seventh round and it was followed by a barrage in the eighth. From there, Flanagan would not return for round nine.
Among those who had piled into the esteemed Sydney venue were the likes of Jeff Fenech, Jack Brubaker and Rob Whittaker.
Ritchie was perhaps never far from the minds of those in the venue, not least of whom was welterweight Darragh Foley in the midst of his 78-75, 77-74, 77-74 unanimous decision win over Jameson Bacon.
For on his trunks was a cowboy hat, with three letters written underneath: RIP.
Foley intends on auctioning the shorts and donating the proceeds to the Ritchie family, for whom a fundraiser had already garnered more than $36,000 before the bout.
That number is set to skyrocket after a piece signed by Fenech and Azumah Nelson – who shared a storied trilogy – was auctioned off in centre ring for $6000.
"He was a great fighter, a great human," Fenech said.
Caden Helmers is a sports reporter for The Canberra Times