"I am at a loss to understand when there's been offers of help, why the government would not take advantage of that," Kamalle Dabboussy said.
"I fear there will be Australian deaths in the camp over the [northern] winter, unless the Australian government acts now to save these children and their families."
On Saturday, Mr Sales called on coalition partners to get both their foreign fighters and families out.
"Leaving these folks at camps in the desert … is not going to solve the problem," he told the ABC.
"Our offer to other countries that are interested in taking their citizens back is we are prepared to help and we hope you'll accept that offer," he said.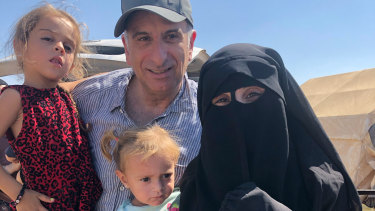 Mr Sales said he would not go into "private diplomatic conversations" but added offers had been made to "all of our coalition partners".
He said US military assets could be used to extract people. Locally-based NGOs could also help.
While DFAT said it was aware of Mr Sales' comments, and Australia "continues to work closely with the US" on the "complex challenges associated with foreign fighters and their families" in Syria, it is also understood the two countries have not held formal discussions on the matter.
"People made a decision to either go in themselves or tragically take their children."
Judith Ireland is a political reporter for the Sydney Morning Herald and The Age, based at Parliament House