Mladenovic and Garcia admitted the victory was even more special for them, given the pair fell short in the deciding rubber against the Czech Republic three years ago.
"Three years ago we failed on the last step of the tie and today we wanted to take this little revenge for ourselves. It's not describable to tell you how we feel right now," Mladenovic said on court after the victory.
Captain Julien Benneteau, who said he would be having "a lot of beers" to celebrate long into the night, said he had dreamed of this moment at the beginning of the year.
"I'm the proudest man on the planet right now. I'm so proud of my girls and my team, they deserve it because they fought for a long time for this title."
Earlier, Tomljanovic had exorcised her debut demons in the space of 24 hours to drag her country back into contention.
Selected to play reverse singles against world No.122 Pauline Parmentier, Tomljanovic overcame her nerves to win in straight sets 6-4 7-5 in a remarkable story of redemption.
Barely a day after capitulating to a 6-1 6-1 loss in her first match representing Australia, Tomljanovic was backed in once again by captain Alicia Molik, even after world number one Barty was downed in one of the most epic battles in the competition's history.
"I'm really glad I got a second chance today," Tomljanovic said on court after the match, admitting she went to bed knowing she would definitely be playing in the reverse singles.
The first match of the day saw Mladenovic came from a set down to defeat Barty in just over two and a half hours in front of another packed house at Perth Arena.
In what the winner described as an "epic", Mladenovic eventually prevailed 2-6, 6-4, 7-6.
The defeat ended Barty's run of 15 consecutive singles wins and put significant pressure on the inexperienced Tomljanovic.
Mladenovic was lost for words after the marathon match, fighting back tears as she thanked the French fans.
Barty, one of the calmest media performers in tennis, appeared displeased when asked if she was feeling "tight" in some of the bigger moments of the match.
"Did it look like it?" she asked back.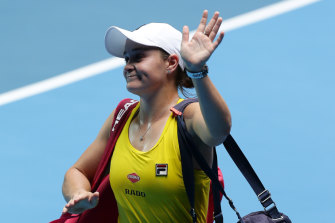 "I don't think I did, I came back from a break down twice in the third set and Kiki just played a more aggressive tie break.
"From my point of view, I fought as hard as I could, I hope that I did my team proud and I hope I did all Australians proud because I fought with everything I had left."
The deciding set was a rollercoaster, with four breaks of serve and reached its climax with a tie-breaker.
The breaker didn't properly symbolise the war of attrition of the match, as Mladenovic put her foot down, steamrolling Barty to take it 7-1.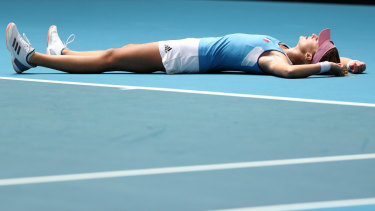 Sam McClure won the Clinton Grybas rising star award at the AFL media association awards in 2015.