"He rides good, this kid. He has to keep improving. I reckon he's one that maybe can. He has that cool temperament. Hopefully he's smart enough to keep improving."
Post-race McNeil was keen to put the horse first, saying the mare's win was hard earned.
"It's quite satisfying mainly for the horse because she has been racing quite well of late and not getting much luck, so it was good to team up with her and get the result," McNeil said.
A consistent mare, Oceanex has now won two from two at Flemington, the big track allowing her to settle before unleashing a sprint, with Price content she has shown enough to be a valuable stud prospect in the future.  She has only been unplaced twice in 13 starts.
"To nail it in a group 2 makes her such a valuable broodmare now. All the bad luck has gone and we landed some good luck so happy days," Price said.
"I think this is her personal best. She'll go to the paddock now. I think that was about run number seven for her. I don't want to go further with her because this was only start 13. This time next year she'll still be a nice mare. She's got a bit of a soft knee but we'll go to the paddock."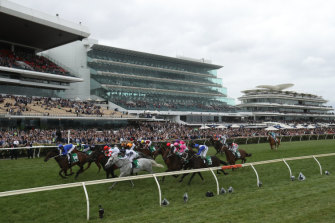 Price has been making the most of limited runners over the carnival teaming up with Mick Kent Jnr. to win three races from nine starts.
For McNeil, the win was particularly satisfying as he was able to pay back Price for the support he has been given. But he is also aware that such a win can help make him a realistic option when the big races come around.