The teenager clashed with Phoenix veteran Ben Madgen in the first quarter, then appeared to stand over Madgen and say something.
Phoenix import John Roberson pushed Hampton with one hand to the chest and Hampton lost his footing. He then jumped up and needed to be restrained by teammates although he appeared to reach through and make contact with Roberson's head.
After reviewing the play, the referees called Hampton for a pushing foul, a technical foul for the stand over and an unsportsmanlike foul while Roberson was called for an unsportsmanlike foul.
The technical foul and unsportsmanlike foul meant Hampton was ejected from the game.
Hampton and fellow teenager LaMelo Ball have drawn millions of viewers to the NBL via the live streaming of their games into the US on Facebook TV, while a number of NBA scouts have also been making the trip to Australia and New Zealand to watch them play.
Loading
Any scout who was attending Saturday night's game would have had an early night, while Breakers managing director Matt Walsh was seen in an intense discussion courtside with NBL commissioner Jeremy Loeliger.
The ejection plus 39 fouls in the first three quarters made for a stop-start and somewhat messy game although Breakers' Rice Jr and Webster had the visitors in front at half-time and well into the third quarter.
But then Phoenix stars Roberson and Creek broke free of some close coverage to fire up the home crowd, while centre Pineau scored eight points as his side took a 71-62 lead into the last term.
Two big threes from veteran Adam Gibson, and more baskets from Creek, pushed their advantage well into double figures. Creek's alley-oop pass to Jaye Crockett for a dunk was another highlight.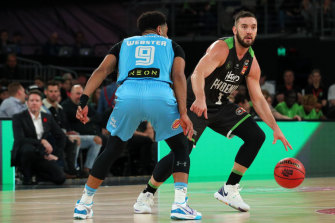 Kyle Adnam was strong in his 100th NBL game, scoring 10 of his 12 points in the first half while his side was struggling on offence.
The Phoenix's 61-point second half will be one to remember for the home side, especially with their struggles to score in the first.
There is a high level of competitiveness in this Phoenix side and it comes out when the hard times come around, which is a trait they will hope to keep well beyond this season.
The Phoenix play Melbourne United at Melbourne Arena on Saturday at 5.30pm AEDT.
Roy Ward is a Sports writer for The Age.