Gallen had come to the end of the 2017 season when he spoke to former Knights footy manager Darren Mooney and Newcastle-bound Cronulla assistant James Shepherd about a move up the M1 Motorway.
The cashed-up Knights were prepared to pay him as much as $750,000 for the season, only for Gallen – one of the few loyal one-club players left in the game – to settle on a Cronulla deal worth closer to $300,000.
"I thought we had the team to win a comp here, we ended up making the grand final qualifier but had too many injuries," said Gallen, as he modelled a special jersey to be worn in his honour on Sunday, the last home game before the stadium overhaul.
"If you look at the roster we've got now, we should be further up [the ladder] than where we are.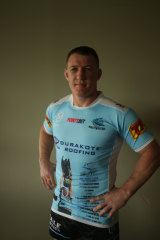 "Newcastle were rebuilding. I'd done that three or four times [in my career] and it's hard for senior players when you're rebuilding, there's a lot of pressure on you, a lot of expectation, and I didn't want to deal with it again.
"For the amount of money – and it was a lot of money – it wasn't all worth it.
"I do things outside of footy here, I'm involved in a couple of businesses I work for which I enjoy, and I probably wouldn't have been able to do that. The Channel Nine deal, travelling two hours up and down the freeway once or twice a week also wouldn't have helped.
"I don't regret not going. I'm quite happy I stayed.
"It was done between myself, Darren Mooney and my manager. Our assistant coach at the time was James Shepherd and he was going up there. We talked a bit. I never had a discussion with 'Browny' about it.
"There's not one bit of regret I didn't go."
Gallen bleeds black, white and sky blue, and has been bleeding a lot of late because of a cut under his right eye suffered against the Warriors, and a right thumb that continues to split open.
That's close to 200 players I've seen come here and debut for the club,'
He wears club No. 339 with Billy Magoulias, the last player to debut for the Sharks, No. 532.
"That's close to 200 players I've seen come here and debut for the club," Gallen said.
"This place has been my second home for 20 years. I've probably spent more time here than I have at home. It will be emotional. I just want to win the game. If we lose I'll be upset, but if we win I'm a fair chance of crying."
Gallen let Flanagan know he wanted him at the ground for the emotional farewell. The pair were hugely responsible for assembling the club's roster when Cronulla was "shit", said Gallen.
Flanagan, who was deregistered by the NRL at the end of last year for integrity breaches, has only made a couple of game-day cameos when his son Kyle has played.
"I've rung him and asked him to come. He'll be here," Gallen said.
"I did specifically ask him to be here and he said, 'no worries, thumbs up'.
"The team has moved on, but it's important to me he's here, and he will be."
Christian covers rugby league for The Sydney Morning Herald.