"Australia has a strong interest in regional stability, security and prosperity, and is engaging closely with our partners in support of this goal," a Department of Foreign Affairs and Trade spokesman said on Monday.
Loading
"We would be concerned at any developments that could upset the strategic balance in the region."
However, previous reports of China's military ambitions in Cambodia so alarmed the Australian government that it repeatedly raised concerns directly with the Cambodian government.
China has poured billions of dollars in development assistance and loans into Cambodia through bilateral frameworks and China's Belt and Road initiative.
The initiative, unveiled by Chinese President Xi Jinping in 2013, aims to bolster a sprawling network of land and sea links with south-east Asia, central Asia, the Middle East, Europe and Africa.
It has attracted a flood of Chinese commercial ventures in Cambodia, including casinos, special economic zones and a massive new airport development near the proposed military base.
The United States has urged Cambodia to reject a military arrangement with China, saying the nation had a "constitutional commitment to its people to pursue an independent foreign policy".
"We are concerned that any steps by the Cambodian government to invite a foreign military presence in Cambodia would threaten the coherence and centrality of the Association of Southeast Asian Nations (ASEAN) in coordinating regional developments, and disturb peace and stability in Southeast Asia," the US State Department said in a statement.
China last year approached Vanuatu about building a permanent military presence in the South Pacific in a move that promoted discussions at the highest levels in Canberra and Washington.
Loading
Australian intelligence and security figures have been watching with concern as Beijing deepens its influence in South East Asia and the Pacific through billions of dollars in infrastructure building and loans.
During a visit to Canberra on Monday, Papua New Guinea Prime Minister James Marape assured Prime Minister Scott Morrison his country would not offer China any favours.
"We deal with every investor in the same playing field, in the same policy outlook," Mr Marape said. "We are friends to all, enemies to none, so to speak, in the greater foreign policy context.
"We will have an equal playing field for every investor, so long as they subscribe to the rules and regulations of our country.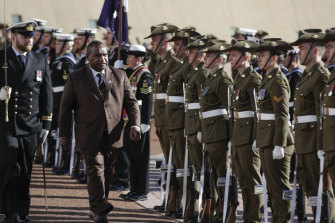 "Every businessman and woman is welcome in our country, and the Chinese investors will not receive any special treatment and preference, just like Australian investors will not receive any special favour or treatment."
The Morrison government has sough to counter China's ambitions by pledging billions of dollars towards infrastructure in Pacific island nations.
Mr Morrison on Monday said the Australian government was committed to "ensuring each and every one of those nations are as independent and as sovereign and as much in charge of their future as they possibly can be".
Bevan Shields is the Federal Editor and Canberra Bureau Chief for The Sydney Morning Herald and The Age.