"You might sound like an older player by saying that. But it's the reality, the average length of a career in the AFL is four years. So if you don't make the most of it, it's going to pass you by pretty quick."
Johnson's footy career peaked early. He made his debut for the Swans in 2011 and cemented himself in the team the following year, playing almost every match including the premiership against Hawthorn.
"The fact that I can finish my career having been a premiership player, whenever that may be, I'm pretty proud of it," he said.
His knee troubles began in 2013 at a pre-season match where he tore his left ACL. This would begin a spiral of setbacks including infections, complications and further injuries that led to him having a total of six knee reconstructions.
"If I had sat down six, seven years ago and said you'll have 13 operations on your knees … I probably would have said I would have given it up."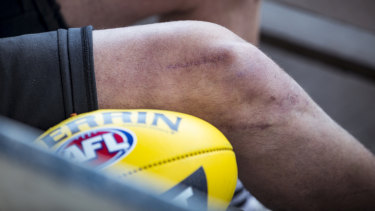 But a fierce competitive nature, love of the game and support from former Swans colleague Rhyce Shaw was what kept him going.
"Injury and rehab is a pretty lonely place. Shaw would always been the one who would check in," he said.
"Just having someone there who was completely in your corner, he was always in my corner. He would say whatever you want to do, I'll support you. That meant a lot."
It was during these years of rehabilitation that he caught the "coaching bug" but he knew he always wanted to get back onto the field. When he was offered a job in development with Sydney at the end of last year, he turned it down.
"The development side interests me a lot but I wanted to have the balance of pursuing that while playing as well."
He's now returned to his home state and while he misses the beaches and camaraderie of Sydney, there's no greater feeling that being back on the grass.
"Now that I've played three games, I feel really confident.
"Hopefully we can win more games than lose and push towards finals."
Charlotte is a reporter for The Age.