The analysis shows Liberal Party candidates are far more inclined to care strongly about law and order and economic liberalism, while the political positions of the independents lean far less significantly towards those areas.
The tool analysed the positions of Kerryn Phelps, who is hoping to prevent the Liberal Party regaining the Sydney seat of Wentworth, Zali Steggall, who is working to oust Mr Abbott from Warringah, Oliver Yates, who is contesting the Melbourne electorate of Kooyong against Mr Frydenberg, and Helen Haines, who is trying to keep the regional Victorian seat of Indi in independent hands.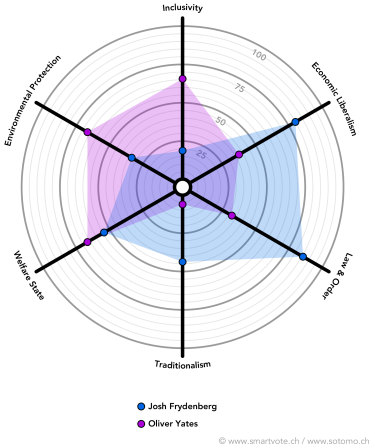 On economic liberalism, traditionalism and welfare policy, all four hold similar positions to the Liberal and Labor parties, but have more progressive stances in two areas: all favour environmental protection more than either party, and are less ideological than the major players on law and order – a wide-ranging policy category that includes treatment of asylum seekers, marijuana legalisation and pill testing.
Of the four independents, Ms Steggall has a greater leaning towards economic liberalism, closely followed by Dr Phelps.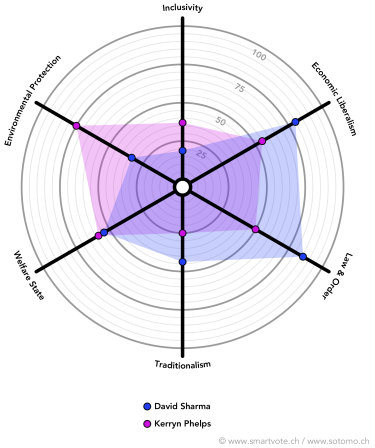 Mr Yates, a former chief executive of the Clean Energy Finance Corporation who has made climate change the central focus of his run for Parliament, is placed behind Dr Phelps and Ms Haines on environment protection.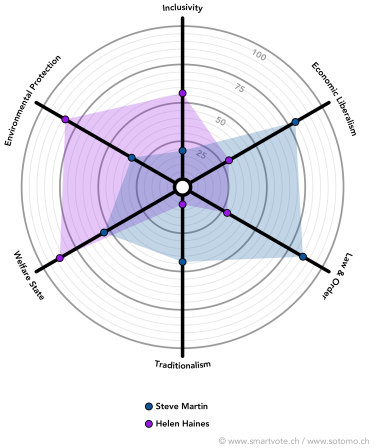 Several Liberal and Nationals MPs in NSW and Victoria are under threat from self-declared 'small-l liberal' independents who have pitched themselves to the electorate as safe hands.
The smartvote Australia analysis shows the policy positions of the four high-profile independent candidates roughly reflect the 50 other independents who have completed the tool.
"Most of the independents tend to locate themselves between the two major parties and therefore are more centrist," said Patrick Dumont, the professor of political science leading ANU's involvement in smartvote Australia. "And they tend to be much more concerned about the environment."
In addition to producing the "smartspider", smartvote Australia also produces a two-dimensional "smartmap". The map's horizontal axis represents the classic economic left-right dimension. The vertical axis represents the social liberal-conservative dimension.
Analysis of the data also shows that most independents are more centrist than the two large parties on the two dimensions.
Max is a journalist at The Sydney Morning Herald and The Age.