Anthony Milford was brilliant in a dominant playmaking display behind a pack that was bossing their opponents around the park. Corey Oates was a beast on the Brisbane wing and Payne Haas and Matt Lodge were a formidable front-row combination, with both running for more than 150m.
Loading
It was a different story for the Sharks. Rookie winger Ronaldo Mulitalo was mercilessly targeted by Milford's high kicks and forced into a number of mistakes. Fullback William Kennedy, in just his second game, was another who struggled to keep a handle on the Steeden.
Whether Rabbitohs coach and former Broncos mentor Wayne Bennett would be fearing a rejuvenated Brisbane next week at ANZ Stadium remains to be seen. Their energy flattened out in the second half but their form rebound has arrived just in time to spice up the grudge match.
As for the Sharks, it was an evening to forget and they must now hope their injured stars can get back on the field sooner rather than later, given the gaping holes left in their roster.
Cronulla gave away a slew of penalties early in the piece and it proved costly. Brisbane flooded their right side with players – it was the rugby league equivalent of having eight in the slips cordon – and Oates sliced through untouched off Milford's deft pass.
It was a beautifully choreographed team play and probably the most fluent piece of attacking expression for the Broncos all season. Their second, a two-metre dummy-half charge from Alex Glenn, had less aesthetics but was just as effective and earned them a 12-0 lead.
Jamayne Isaako's penalty extended the lead to 14-0 and after 20 minutes, the Sharks weren't in the contest. With their full complement of players finally available, the Broncos were winning every contest and overflowing with energy.
Brisbane nearly scored again as Oates flashed down the sideline, then kicked ahead. He hurt his shoulder diving for the ball but was able to rejoin his side, the same of which couldn't be said for Johnson as he limped from the field with a leg injury after just 23 minutes.
While the Sharks were losing their key playmaker, Brisbane's was stepping up his game. Milford was instrumental in everything for the Broncos, this time putting over Joe Ofahengaue next to the posts to make it 20-0.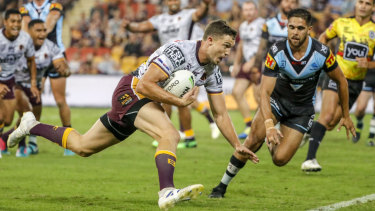 It was dire for the visitors and Milford added a field goal for fun before the break, putting the icing on Brisbane's best half of the year to that point.
There would be no respite for the Sharks. Matt Gillett missed a try by a fingernail soon after play resumed but James Roberts made no mistake as he added another to make it 27-0. Raising the bat wasn't out of the question by the 80-minute mark.
To their credit, the Sharks found some fight when the match was well beyond their reach. They crossed through Jayden Brailey in the second half before the final 10 minutes descended into an error-riddled affair for both sides.
It was against a short-handed Sharks but victory will be sweet for Brisbane and Seibold. It releases the pressure, for the moment, and gives them some welcome momentum against one of the top sides in the competition.