Pell brought to book
It was a small gathering in a private room at Longrain restaurant in Surry Hills on Tuesday evening for Walkley Award-winning journalist and author Louise Milligan – and their numbers included Tom Keneally, David Marr, Stephen Romei, Louise Adler and Max Gillies. The mood was animated, as Keneally had just launched, at the Teachers Federation Conference Centre in Surry Hills, New Revelations, the updated edition of Milligan's multi-award-winning Cardinal: The Rise and Fall of George Pell. Milligan is still the only journalist to have spoken to Pell's victim, and while the book had to be removed from the shelves in Victoria after just six weeks on sale while the Pell case was under way, this new edition is selling well.
Keneally, whose foreword for the new edition replaced my own for the old edition, sniff, delivered a rousing call for Milligan. "Beautifully written and researched . . . work. Let us hope that if Pell gets off it doesn't mean the church is off the hook. This book validates the past and present; is a guide to how the church, we hope, will advance into the future. Cardinal is a departure from the choruses of For He's a Jolly Good Fellow that have resonated through the media, without regard for victims' feeling, or the honour and professionalism of the court . . . The howls against the verdict are intemperate and contemptuous, whereas Milligan's book is temperate and respectful of its own solemn story."
Milligan was in turn glowing in her own remarks on Keneally, thanking him for his support throughout. "As a fellow refugee of the Catholic church of feisty Irish stock, we are kindred spirits. I love that he does not mince his words. And nor should he. What we have witnessed is a devastating history, where little kids were shoved under the bus in the name of institutional protection."
Don't write off Jodi
After my piece on the likelihood that the member for Kogarah Chris Minns will stand for, and win, the leadership of the state opposition, I've been contacted by others in the ALP parliamentary ranks to talk of the other contender, the member for Strathfield Jodi McKay. She, too, would have a lot to offer in the role – being particularly strong among the rank and file – and I am told if she ran would be a fair chance of winning, but is yet to make up her mind.
Harvey's last drinks
Vale Geoff Harvey, Australia's most famed piano man, who passed away in a Gold Coast hospital last Saturday, aged 83. He had been touring around Australia with my cousin's musical revue when, early last month, he had suddenly fall ill. Harvey's wife Katrina was with him throughout and he passed away very peacefully.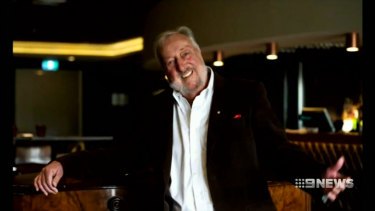 His great friend Ray Martin was on the next plane north to support Harvey's widow and daughters. A funeral? Not for Harvey. It was his express wish to have no such morbid affair. Instead, next Thursday afternoon, Geoff's closest friends have been invited to "Harvey's Last Drinks" in Bowral which, among others, will feature most of the last ones left standing from Channel Nine's great days of the 1970s and 1980s.
Don't worry, be happy this way
And aint this a sign of the times? At Sydney Uni on Thursday afternoon a lecturer quoted a 20th century psychologist: "Democracy, then, means that the people rule by selecting the wisest, most intelligent and most human to tell them what to do to be happy." The whole lecture theatre burst out laughing.
Quote of the week
"I've had a fortunate life. I don't have a log cabin story like so many in this place. Although I once did have to get my own lemon for a gin and tonic. That may or may not qualify, Mr Speaker."  – Christopher Pyne in his valedictory speech to the House of Reps, after a quarter-century career.
They said
"The lack of compassion you have shown demonstrates frankly a basic lack of basic humanity. You have shown a reckless disregard for your fellow Australians and many others around the world." – Government minister Simon Birmingham to Fraser Anning in the Senate.
"It's time I was looking for a third husband. I feel fantastic."  – Agnes 'Nessie' Kluckhenn, believed to be Australia's oldest living person, on her 110th birthday this week.
"Theresa May had a massive seven-hour cabinet minister – I mean cabinet meeting." – An understandable slip of the tongue by Fran Kelly on Radio National.
"People felt sorry for [my father] because he didn't have a son to play footie someday and carry the Phillips name. So, Dad, I know you're watching, and, Mum, I hope I've made you proud, and you can stick it up those people who said that to you." – Erin Phillips on winning the AFLW Best and Fairest Award for the second time.
"Hate speech cannot be defended on the grounds of freedom of speech because it is an attack on our democracy, because it inflicts real and direct harm. Hate speech is inimical to democracy. We can't normalise it through a contest of better ideas." – Senator Penny Wong, speaking against Fraser Anning.
"America deserves a leader as good as Jacinda Ardern," and "Jacinda Ardern leads by following no-one." – Two editorials in The New York Times had these headlines.
Twitter: @Peter_Fitz
Peter FitzSimons is a journalist and columnist with The Sydney Morning Herald.