Loading
The brothers will both suit up for the GWS Giants Academy to face the Sydney Swans Academy in the AFL under 18s league at Manuka Oval on Saturday.
"I used to go and play my own games and then play up for Tom's team, because he is only a year ahead of me in footy. We've done that ever since we were kids," Josh said.
"It's great. We've played together before and it's always a highlight. We do really work well together, we just sort of know subconsciously what each other are doing."
It wasn't always just football they followed each other to.
"All year round it would depend what it was. We were playing cricket and basketball in the summer, and football in the winter. We were just always playing sport and hanging out together," Tom said.
"A few times we've had some battles going one-on-one, but generally on the field together we work quite well together. I don't tend to blow up at him any more than I do anyone else.
"We've both helped each other's development, because we have both played football at quite a high level. Having that ability to basically train with someone, even if you are just going for a kick down at the oval, it has really helped us both."
The brothers are joined by Gungahlin's Matt McGrory – who took out the Giants' senior side's two kilometre time trial in pre-season and a quartet of Queanbeyan Tigers.
Loading
Queanbeyan's Harry Grant and Oliver Hicks will play key roles in the midfield, Sam Frost will feature across half-back and Lachlan Squire will come from the interchange bench.
The revamped under 18s competition includes teams from Victoria, Tasmania, Northern Territory, NSW, ACT and Queensland as part of the AFL's talent pathway restructure.
The five matches played by the Swans and Giants academies will act as a selection platform for the Allies under 18 national championships squad to give players in their draft year an extra source of motivation.
Tom has been in the AFL system, if only for a few gruelling weeks in the western Sydney heat that would often leave him craving a lay down in bed.
He is desperate to one day be there full-time after his short stint with the Giants over summer, but concedes he is not trying to focus on it too much – he just has to "take it week by week and play well".
Josh is a little more chirpy when it comes to the prospect of seeing his brother's name called out at the draft.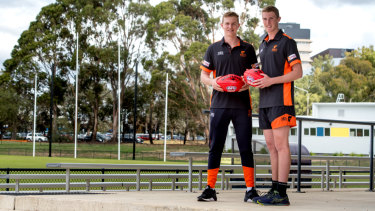 "Obviously I'm hoping for him to go as well as he can, it's the childhood dream to play AFL footy. If he gets a chance to do that, I'm happy," Josh said.
"That's the goal [for me as well], and that starts in the academy series this year. That's the end goal, but I'll just go out and try to play well each week."
AFL UNDER 18s LEAGUE
Saturday: GWS Giants Academy v Sydney Swans Academy at Blacktown International Sportspark, 11.55am.
GWS GIANTS ACADEMY
B: 5. K. Flack, 24. N. Murray, 23. A. Whyte
HB: 43. S. Frost, 27. J. Green, 20. J. Reed
C: 1. H. Grant, 25. T. Green, 10. J. Peatling
HF: 22. L. Conlan, 26. L. Delahunty, 19. R. Mooney
F: 4. C. Edwards, 35. J. Cullen, 2. M. Hamblin
R: 34. O. Hicks, 17. J. Lucas, 28. M. McGrory
Int: 3. J. Moen, 6. T. Organ, 12. L. Squire, 16. C. Steele, 37. D. Beavan
Caden Helmers is a sports reporter for The Canberra Times