Tuesday's budget gave a handful of stocks a lift this week, with promises of personal tax cuts and a boost to health and infrastructure spending.
Healius was the biggest winner of the week, advancing 10.6 per cent to $2.91.
The major miners rose this week as the price of iron ore broke over $US90 a tonne. BHP Group and Rio Tinto rose despite both miners downgrading their respective production guidance for the year on the back of outages caused by Cyclone Veronica.
BHP Group closed the week 1.9 per cent higher at $39.22, Rio Tinto rose 2 per cent to $99.91 and Fortescue Metals Group advanced 9.4 per cent to $7.78.
Automotive Holdings rose 22.9 per cent to $2.15 after it received a takeover offer from AP Eagers, which already owns a 28.8 per cent stake in the car dealership operator. The offer implies a value of $1.92 a share. AP Eagers' shares closed the week 4.6 per cent higher at $7.69.
The major banks were mixed this week. NAB closed 1.8 per cent lower at $24.81, Commonwealth Bank rose 0.4 per cent to $70.89, Westpac advanced 0.5 per cent to to $26.05 and ANZ 0.3 per cent to $25.95.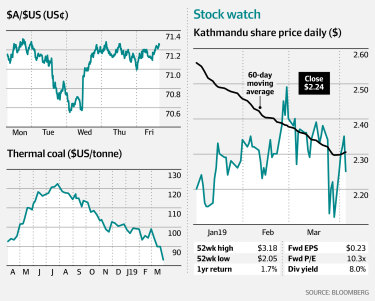 Pilbara Minerals shares fell 7.6 per cent to 73¢ this week. Managing director and chief executive Kenneth Brinsden sold $6.2 million of shares in the miner last week. The miner said the sale had been made in order to fund the exercise of 15 million options that were exercisable at 40 cents and due to expire on May 16.
Stock watch
Kathmandu Holdings
Morgan Stanley reduced it price target on Kathmandu Holdings after cutting its earnings forecasts for the retailer by as much as 13 per cent over the next three years. The broker said it saw a softer outlook for the company in the second half of 2018-19, with only modest same-store sales growth and risks to the retailer's gross margin due to a more aggressive promotional plan. Greater clarity on the expected pay-offs and evidence of execution could allow us to incorporate more of the potential upside of what could be a highly scalable, capital light model that could result in a meaningful re-acceleration of earnings growth," said analyst James Bales. Morgan Stanley dropped its price target on Kathmandu from $3 to $2.60 but retained its equal-weight rating.
What moved the market
Reits and bonds
Real estate investment trusts (REITs) were among the best performing stocks during March, along with other interest rate sensitive infrastructure stocks including Transurban and Sydney Airport. The strong performance of those stocks was driven by a fall in the 10-year Australian government bond yield, which fell below 2 per cent for the first time since mid-2016.The ASX REIT Index and the 10-year government bond have a strong investment relationship, given property trusts have bond characteristics such as predictable cash flows and long duration of assets.
Thermal coal
Australian thermal coal prices have continued their slide, falling heavily in the first few months of 2019. The slide has taken the price of FOB Newcastle 6000 kilocalories per kilogram coal to its lowest level since July 2017. Concerns over emerging surplus conditions in thermal coal markets is being exacerbated by liquidity issues in the spot market, as the US and Russia up their exports and Japanese demand weakens. Japan and South Korea are the biggest consumers of the Newcastle 6000kcal/kg coal. Thermal coal had been trading at more than $US120 a tonne in mid-2018 but its fall now sees it at just over $US80 a tonne.
Aussie dollar
The Australian dollar remained relatively even on Friday, remaining above US71¢ after dipping as low as US70.55¢ earlier in the week. The Aussie is being supported in part by rising iron ore prices, which have now risen over $US90 a tonne following the supply outages at mines operated by Brazilian miner Vale and interruptions to supply from BHP Group and Rio Tinto following Cyclone Veronica last week. Analysts had been touting a potential boost to the Aussie's value on Friday if a summit between US President Trump and Chinese President Xi was announced, however both sides remained silent.
Trade talks
Trade talks between the US and China appear to be going well, with US President Donald Trump and China's Vice Premier Liu He meeting on Thursday in a bid to push out a final agreement on the outstanding issues. An agreement between the two parties appears mostly priced into the market now, however Capital Economics says the risk of disappointment is also rising. They pointed to the rising volume of Google searches of "US China trade deal" has surged in 2019. "That all suggests to us that there is more room for disappointment on the trade front …," said markets economist Oliver Jones.
William McInnes covers markets from Sydney including editing the Markets Live blog.