Questions over support for federal Nationals leader Michael McCormack in the final weeks of the campaign also unsettled the NSW Nationals.
Prime Minister Scott Morrison on Saturday night told Liberal supporters that NSW voters rewarded a government with a strong record on the economy and delivering essential services.
"And in two months from now we will be back here celebrating another Liberal-National government returned to office for the same reasons," he said.
Liberal senator Arthur Sinodinos on Sunday told the ABC's Insiders program that the NSW win was a welcome "morale boost" to the federal party. But he conceded the Nationals result in NSW was concerning.
"Whenever any party has seats lost and all the rest of it, you do have to take a look at yourselves," he said.
"The Nationals party in NSW did deliver a lot of money for the bush but I'm not sure that people in the bush felt that it was too little too late.
"I think we have to look at the results and see … how to make sure that the bush gets a better deal."
Senator Sinodinos rejected suggestions that the Nationals should take sole responsibility for water issues such as management of the Murray-Darling and the mass fish kills at Menindee, saying it was "an issue for the country as a whole".
NSW Nationals leader John Barilaro rebuked his federal counterparts in the penultimate week of the state campaign, after internal divisions on coal funding were aired publicly and former Nationals leader Barnaby Joyce appeared to question the leadership of Michael McCormack.
Mr Barilaro was returned to his seat of Monaro but on Saturday night took "full responsibility" for the Nationals' statewide result, describing it as "concerning".
Senator Sinodinos said Mr Morrison and "all the other members of the Liberal-National coalition in my view back Michael McCormack as the leader to go into the election.
"He's earned his spurs, he's fighting hard every day in there … I think it's important for all National party members to get behind McCormack as we go into the home stretch."
Mr Joyce, speaking on Channel 7 on Saturday night, said the Liberal Party must understand that "there is a different message in regional areas".
"Those who want to give rifles back to the farmers and people are winning seats," he said.
Mr Joyce, the former federal water minister, rejected suggestions by Labor senator Jenny McAllister that the state and federal Nationals had mismanaged the water system.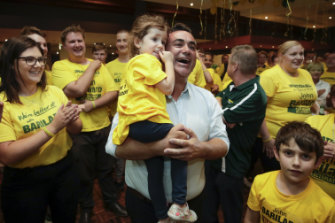 "It's the heartland that has come out and said we've got some issues that we need to address, we've got to stop taking our political advice from the ABC, that will take you nowhere but to opposition," he said.
"[We have to] make sure that we go and reconnect with the people of Barwon and reconnect with the people of Murray and take our medicine and win them back."
Federal Labor leader Bill Shorten, whose party is on track for election victory in May according to successive polls, downplayed the federal implications of the NSW election result but said it offered a few lessons.
"The rise of some of those smaller parties and independents show that no major party can take the voter for granted … the lesson for me out of yesterday is to keep putting forward a long term view of the nation, to keep putting forward vision," he said.
"It's not enough to rely on the fact that you're not the other party. You've got to offer a positive set of plans."
Mr Shorten said voters were also tired of "instability and chaos in politics".
"I think they look at Labor federally and say 'well we might not agree with every policy you've got but we know you are united and we know you are stable'."
Nicole Hasham is environment and energy correspondent for The Sydney Morning Herald and The Age.