"I also have the right to stand up for myself. I'm not worried about being targeted. I've been called everything under the sun, especially the person I'm portrayed to be. My family and friends know who I am and my teammates, that's all that matters.
Loading
"If I wanted everyone to like me, I'd go sell ice-creams. That's a quote from [Roosters skipper] Boyd Cordner, and I think it's pretty correct. If I wanted everyone to like me, maybe I should get another profession because it's the reality of it."
Napa had just nine hit-ups for less than 80m as the Bulldogs were walloped 40-6 by a rampaging New Zealand team.
Bulldogs fans were filthy David Klemmer left the club over the summer and for that very reason will mark his red-headed replacement even harder. Klemmer ran for more than 200m in his first game for Newcastle.
"It's no secret I've replaced him [Klemmer] in this team, but I haven't thought about what anyone apart from my teammates and coaches think about the game I play," Napa said.
"It's only round one. It's a long year. You can compare all you want, I'm just saying it doesn't bother me. I judge my games on our team performance, obviously, they [Warriors] put 40 points on us, so I thought it was poor and I need to be better.
"I want to make a big statement every game. I felt I had a good preparation going into the game, we just lacked a bit of energy and our attitude was not where it needed to be.
"There's more pressure on myself, it's a lot younger and less-experienced squad, but in saying that we've been good at training.
"I feel like the game I played [at the Roosters] was sort of a leadership role, so I don't need to change my game too much. I just need to be better, bro. I need to be better for myself and my teammates."
Napa was slugged 10 per cent of his annual salary but did not miss any game time for the off-field indiscretion that has overshadowed his off-season.
"I can't use [the sex tapes] at all [as an excuse]," he said. "It had its effects at the time, but it's two months ago now. I'm well and truly over that. I'm glad football is back and we can talk about playing Parramatta and trying to beat them."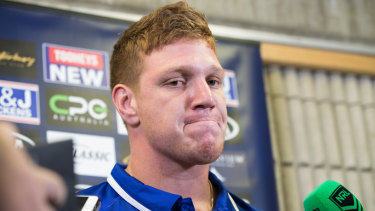 The Dogs must now somehow quickly bounce back on Sunday at ANZ Stadium against bitter rivals Parramatta, including Kane Evans, Napa's good mate from the Roosters who also appeared shadow-boxing in one of the lewd leaked videos.
Evans was the first to leap to Napa's defence when the videos surfaced. He told The Herald at the time: "I love Dylan, and I feel sad for him those videos have come out and people are judging him and saying things online … nobody would be that much of a dog to release those [videos]and post it online."
Napa said of his towering former teammate: "I caught up with him and Roger [Tuivasa-Sheck] and Isaac Liu and Daniel Tupou for dinner about two weeks ago. Those friendships will never be broken. You'll have those friends for life. I've known him [Evans] since I was 17,  and I hope to know him until I'm 87. He's not the first player [to leave the Chooks] and won't be the last."
Christian covers rugby league for The Sydney Morning Herald.