Loading
Friend was sporting a pair of battle scars on his face suffered during the fervent loss to the Rabbitohs when he was asked about concussions.
"It's a scary thing and a bit of an unknown thing," the Roosters hooker said. "We've seen in the NFL, the stuff that has happened over there. But everyone is different as well. You don't know how serious each individual head knock has been and the other factors away from footy.
"For me, it's something I'm wary of as a player and each individual player has a responsibility on themselves, as well as all the clubs in the NRL. They have all the right things in place for it but it comes down to the individual as well."
Friend's belief that the onus must be placed on the individual player – not just the NRL or club doctors – is worth noting.
Where former NFL players have heaped blame on the league – and won hundreds of millions in court settlements – Friend believes the NRL is now taking the right precautions on the concussion front compared to when he made his NRL debut in 2008.
Those precautions include the introduction of a HIA, a concussion "spotter" in the Bunker and the addition of a second doctor on the sideline during matches in case two head knocks happen within minutes of one another.
Combined, they justify comments from NRL head of football Graham Annesley which claimed the code is world class in its monitoring of head injuries.
But the majority of those precautions have only been introduced in recent years, another "scary" thought for Friend.
Loading
"Even [since] when I started it is a lot more stringent, the testing," he said.  "We have to go off and do a HIA, all that sort of stuff now. There was none of that eight or nine years ago and I guess that is scary because it has only just come in. You never know the effects of prior head knocks or footy and what that has done to it."
Friend cops his fair share of knocks as a relatively small body among the "washing machine" that is the middle third of an NRL field and while Daly Cherry-Evans may defend much further out, he is often the target of late hits given his role as Manly's primary playmaker.
Many fifth tackle kicks end with Cherry-Evans on the turf but he has no complaints about the way playmakers are protected in the modern game.
"It's a bit of a talking point this week but those incidents, unfortunately, are not just going to leave the game," Cherry-Evans said.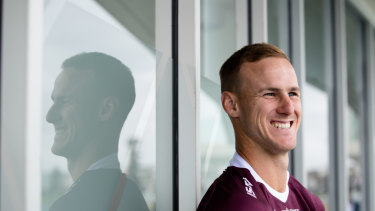 "We work too hard as teams to put pressure on the kicker and it's a part of the game that isn't going to go. There are obviously ways to improve that but I can't be too hard on people coming out of the line and trying to do their job. That's just a part of … it's up to the referees."
Cherry-Evans, like Friend, believes officials police the treatment kickers receive far better than they did when he made his debut in 2011.
He's also far less concerned about head knocks after watching replays of his attempted tackle on Tigers debutant Luke Garner in Manly's loss to Wests.
"I think I have to do a bit more work and a bit more tackling to worry about (concussions)," he said with a laugh. "If you saw that missed tackle on the weekend I have nothing to worry about."
Sam is a sports reporter for The Sydney Morning Herald.