Lucas-Rodd added: "To take the field with the person I love and share that with Bri will be an incredible experience. Any time we pull on the navy blue jumper is an honour, but this weekend it's extra special.
"This round is about letting people know they are loved, accepted and welcomed. Some don't have an easy time coming out, or being gay in their world isn't easy, depending on the support they have around them.
"People have reached out to me on social media and said, and it really inspires me, that Tilly and I have made them feel comfortable about their sexuality. When you get messages like that it's quite emotional because you realise you're having an impact in a way you didn't think you would."
While Davey is comfortable with her sexuality, that wasn't always the case.
The former Matilda came out to her family at 17, with the help of older sister Steph, who worded up their parents. "If she didn't do that it wouldn't have given me the courage," Davey said.
"Rewind to when I came out or even four years ago when I was 20, I definitely wasn't as open about it – maybe a little bit on social media, but I was never one to feel comfortable saying, 'Yeah, I'm gay' or holding Til's hand down the street initially.
"Tilly gave me confidence to be more confident about myself – I'm going to cry – to be open about myself and who I am … Without Til, maybe that wouldn't have happened."
Coming out at 15 to supportive family and friends was easy, according to Lucas-Rodd, but it was early relationships that helped shape her.
"I wasn't really open about it but I was with some women who were proud of who they were and that rubbed me off," she said.
"I learned to be proud of who I am and who I love. When we first started dating I think Bri was more shy about who she was and I was more overt. We've been able to learn from each other.
"I want to be a role model for young people who might struggle."
Davey, 24, and Lucas-Rodd, 22, met in 2015 playing for the St Kilda Sharks.
"We went for a coffee and the rest is history," Lucas-Rodd said.
Davey had quit soccer and taken up the sport she played as a kid growing up in Port Melbourne.
"I was really nervous," she said. "There were drills left, right and centre and I was a deer in the headlights. Tilly grabbed me and said ,'Just come with me, I'll show you what we're doing.'
"That was really nice. I remembered that gesture – when you're new in a new environment and someone does that for you, it's huge."
For three years, Carlton has been their workplace.
"It's a professional work environment and we were both aware of that straight away and set boundaries," Davey said.
Lucas-Rodd added: "It's like we're not even together at footy. New staff came through this season and our physio thought my brother was my boyfriend and now we laugh with her about it."
While society has come so far, comments, both online and in the street, are a reminder of how far we have to go.
"We were holding hands in St Kilda and a guy made a derogatory gesture from his car. It's like, 'Where do you get off?' It was cowardly," Davey said.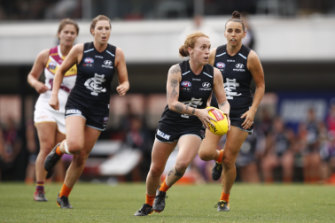 "We are quite mature and confident, but I worry about people who are vulnerable – you don't know how it's going to affect someone.
"You get some average things said, but I think it's getting better. People having difficult times can take some confidence that there's so many people who are supportive."
The couple have discussed marriage and already have matching rings. Davey lost hers for six months before it was found in the bottom of Lucas-Rodd's footy bag.
"[We'd marry] not for traditional reasons, [but to] celebrate our love and that we're proud to be together. Get all our friends and family together, celebrate them and then have kids."
Carlton's Pride Game guernseys will be auctioned for charity Minus18 which champions LGBTIQ youth in Australia.